Today June 9, 2023 marks the Three Year Anniversary of the tragic death of our beloved AALEA Brother: Chicago Police Officer, Xu Meng.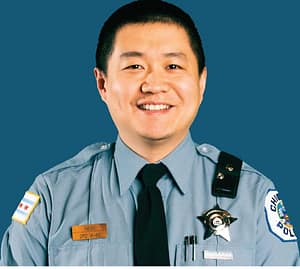 Three years ago during the 2020 Civil Arrest,he was found unresponsive at his home after working long and stressful hours during the civil unrest.  He made the ultimate sacrifice for protecting our city.  
Brother Xu Meng was an honest, humbled, friendly and hardworking officer and many of us had the great honor to work with him. I recall when I was his FTO, I found XuMeng to be a bright, diligent and enthusiastic person. He was affable to those who came in contact with him, and just about everyone seemed to like him.  
Brother Xu Meng  was also an active and caring AALEA member who took time to participate and help out in most of the AALEA events.  
Everytime when I asked him to help with any AALEA function, despite his busy schedules, he alway found time to support the organization. 
XuMeng was the kind of person who always found ways to get things done instead of complaining.  
I recall  Brother Xu Meng told me that, "Teamwork is the key behind every successful organization.  AALEA is no exception.  Only when AALEA Brothers and Sisters truly and sincerely come together, put together our strengths, share a common vision of our goal and help each other in time of need, then AALEA can grow to its highest potential which will benefit all of our AALEA Brothers and Sisters and as well as our communities. 
On behalf of the AALEA Executive Board and Chairs, we ask you to have a moment of silence to commemorate our beloved brother: AALEA Brother: Chicago Police Officer, Xu Meng.
Attached is the link of a short video to celebrate our beloved AALEA Brother: Xu Meng's life.
Brother Xu Meng, You are always in our Hearts and You will Never be Forgotten. 
To Honor our Brother Xu Meng, the AALEA Executive Board has passed:
1). XuMeng Distinguished Community Service Award 
    (This award will be given out along with Trooper Chong Soo Lim Scholarships at our 40th Anniversary AALEA Annual Awards Dinner at Hyatt Regency O'Hare Chicago on November 11, 2023)
2). Honorary Lifetime AALEA Membership to Hengyi Yang (Xu Meng's wife).
Fraternally yours,
Henry Lai
President, AALEA